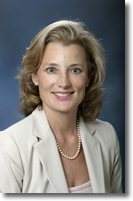 EXPERIENCE:

Alison is an AV Rated Board Certified Local Government Attorney specializing in land use, zoning, annexation, and land development matters in Central Florida and around the state. She has 25 years of experience. Prior to joining Thomas P. Callan, P.A., Alison was a Partner in a large Orlando based law firm and served as an Assistant County Attorney for Orange County, Florida from 1989 to 1995.
BACKGROUND:
Alison was born and raised in Orlando, Florida. She graduated from Orange County Public School and went on to obtain her B.A. from the University of Notre Dame in South Bend, Indiana in 1985. In 1988, she graduated cum laude at Stetson University College of Law in St. Petersburg, Florida where she was a land use Research Assistant for Professor James Jay Brown and an Articles Editor for the Stetson Law Review. Alison now resides in Orlando with her husband and three children.
PROFESSIONAL:
AV Rated Board Certified – City, County, and Local Government Law
Member, Florida Bar (1988 – Present)
Orange County Bar Association, Chairman of Land Use and Environmental Law Subcommittee (1996)
Orange County Assistant County Attorney (1989 – 1995)
Orange County Value Adjustment Board Hearing Officer (2003 – 2005)
Orange County Charter Review General Counsel (2003 Election Cycle)
Seminole County Charter Review General Counsel (2006 Election Cycle)
City of Apopka Code Enforcement Hearing Officer (1999 – Present)
CIVIC:
Orange Blossom Trail Advisory Board (1998 – 2007)
Junior League (1993 – 1997)
Citrus Civitan Club (1989 – 1997)
Leadership Orlando (1994 – 1995)
Guardian Ad Litem (1990 – 1999)
Volunteer – Coalition for the Homeless (1993 – 1997)


Please contact us to schedule a free consultation to discuss your specific needs.